Sharing a recap of some of the thing's I'm loving lately – summer edition! Here are some of the items we've bought lately and I find myself using them all time time, and constantly recommending to friends. 
Hi friends! Hope you had a wonderful weekend and that you had a safe and happy 4th! We're back from an incredible weekend in Vegas – I'll share a recap soon – and while I'm a total zombie this week, it was 100% worth it. We had such a great time and it was a huge treat to spend some time together as a couple and also with our friends Betsy and Jeremy.
I'm slowwwwllyy making my way back into real life (and getting ready for a fun visit from the Pilot's side of the fam this weekend!), studying for IHP and getting the finishing touches on Summer Shape Up. If you're not signed up already, grab your spot here!! It's free and we start on Monday!
For today's post, I'm sharing a list of some of my very favorite things for summer, along with some of your top recs and fave purchases.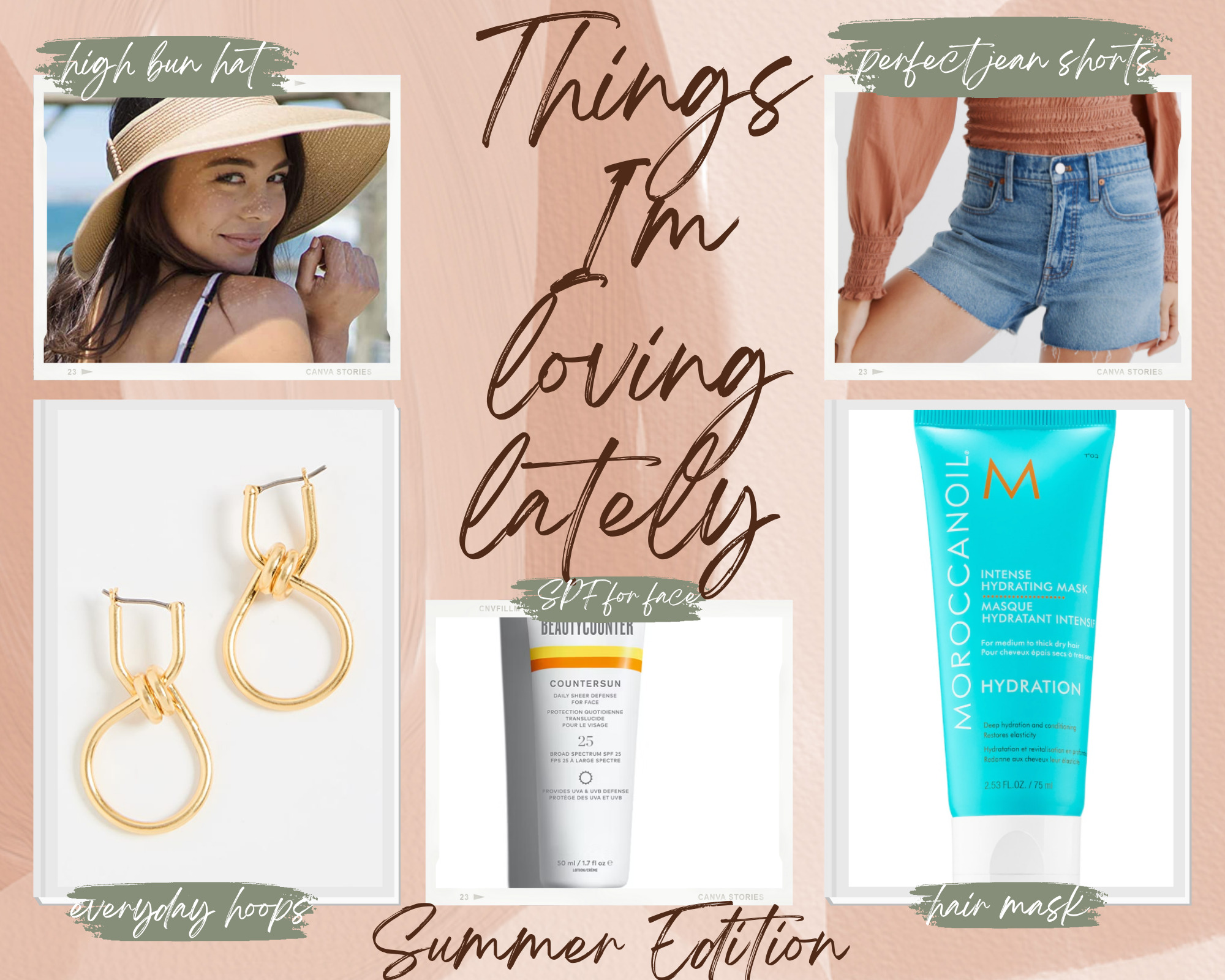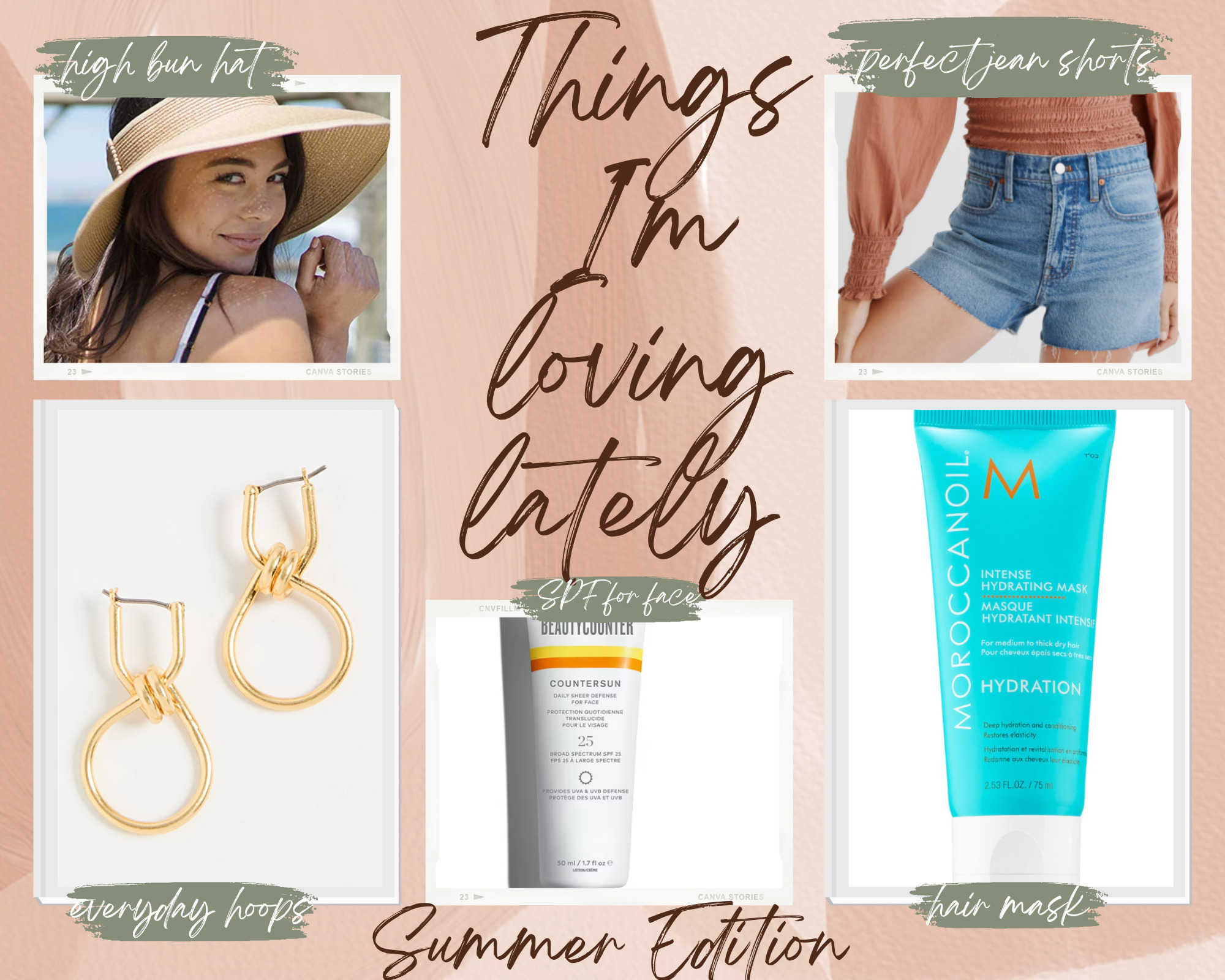 Things I'm loving lately (summer edition)
1) This backless strapless bra
Friends, I have worn this sticky bra SO many times with all of the strapless, off-shoulder, and tank tops this summer. The only downside is taking it off, which is borderline painful lol, but it keeps things covered and in place without wires (THE WORST) or straps. I just wash it with hand soap and water and let it air dry, and it's remained perfectly sticky. The funny thing is that I originally bought it for an event, thinking I'd never wear it again. Who knew it would be such a staple?! It's 14000x better than strapless bras.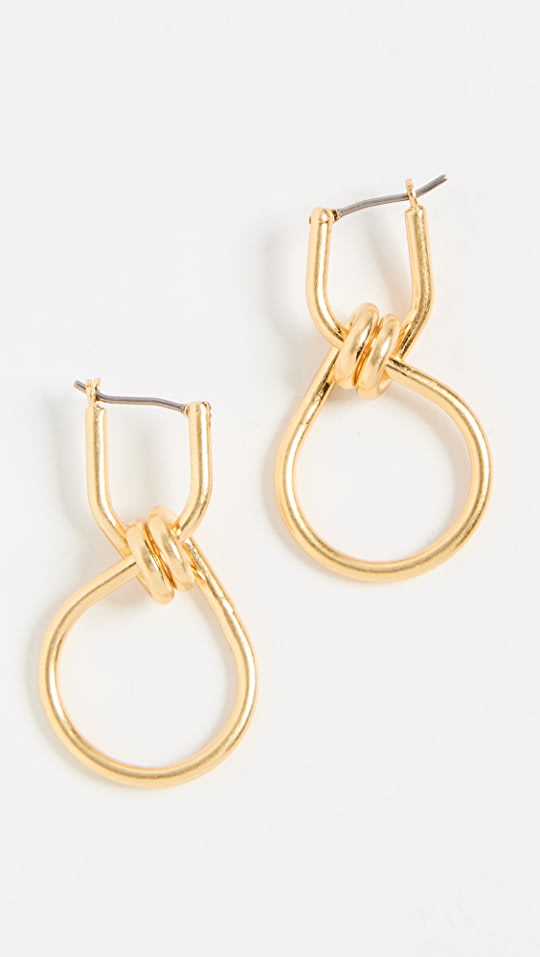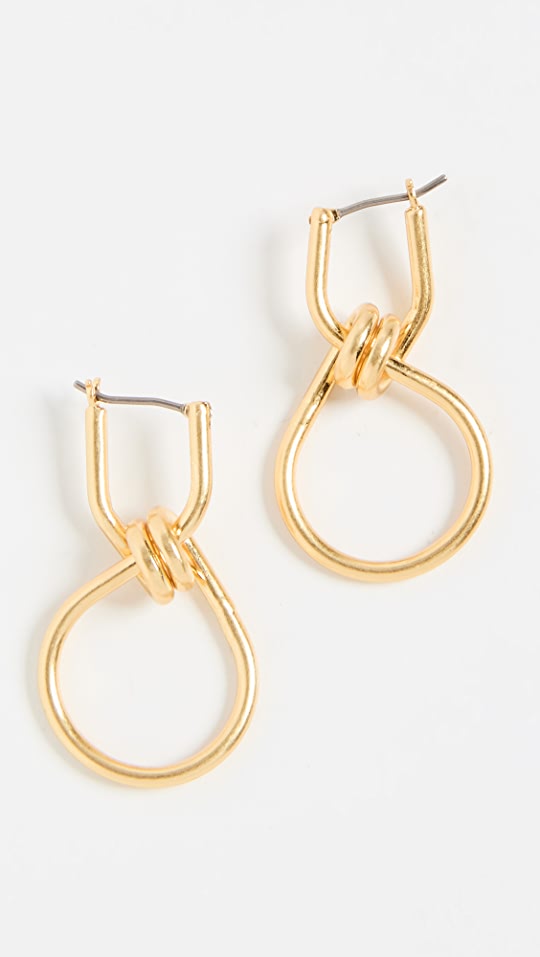 2) These Madewell earrings
My friend Nicole has these earrings and I automatically thought they'd be super pricey because they're structured so beautifully. Found out they were $28 and bought them that day! I wear them constantly with cute tanks and dresses, and always get compliments on them.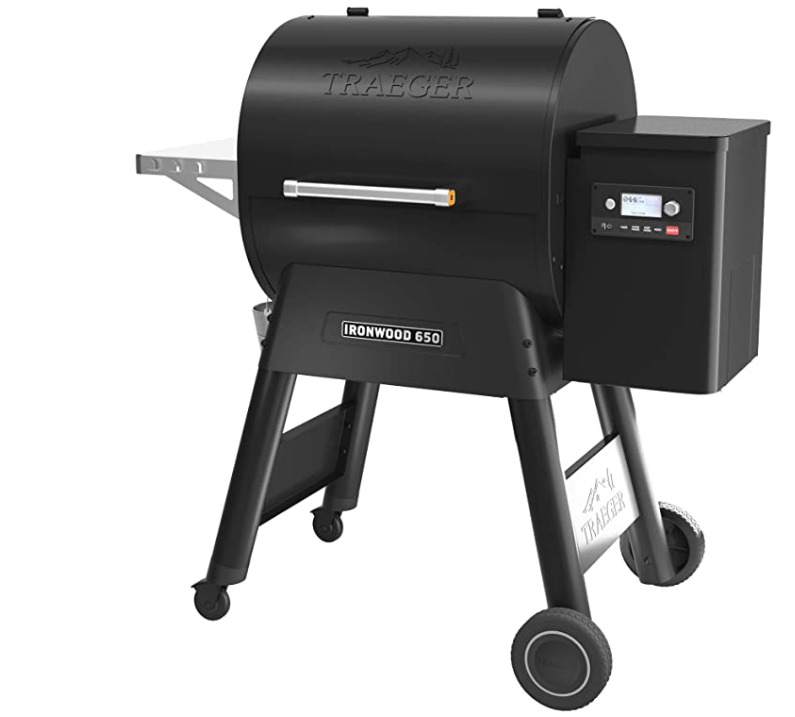 3) Our Traeger grill!
YOU GUYYYYYSSSSS. This may be my favorite thing of the summer! Technically it was a gift for the Pilot for Father's Day and in the end, it was a gift to us all. We've done whole chicken, a brisket, chicken breasts, and everything has been amazing. The best part is that it's completely foolproof. I've always been a little intimated by grilling, but the app walks you through the entire process and tells you when the meat is finished. After a lot of research, this is the model we ended up getting.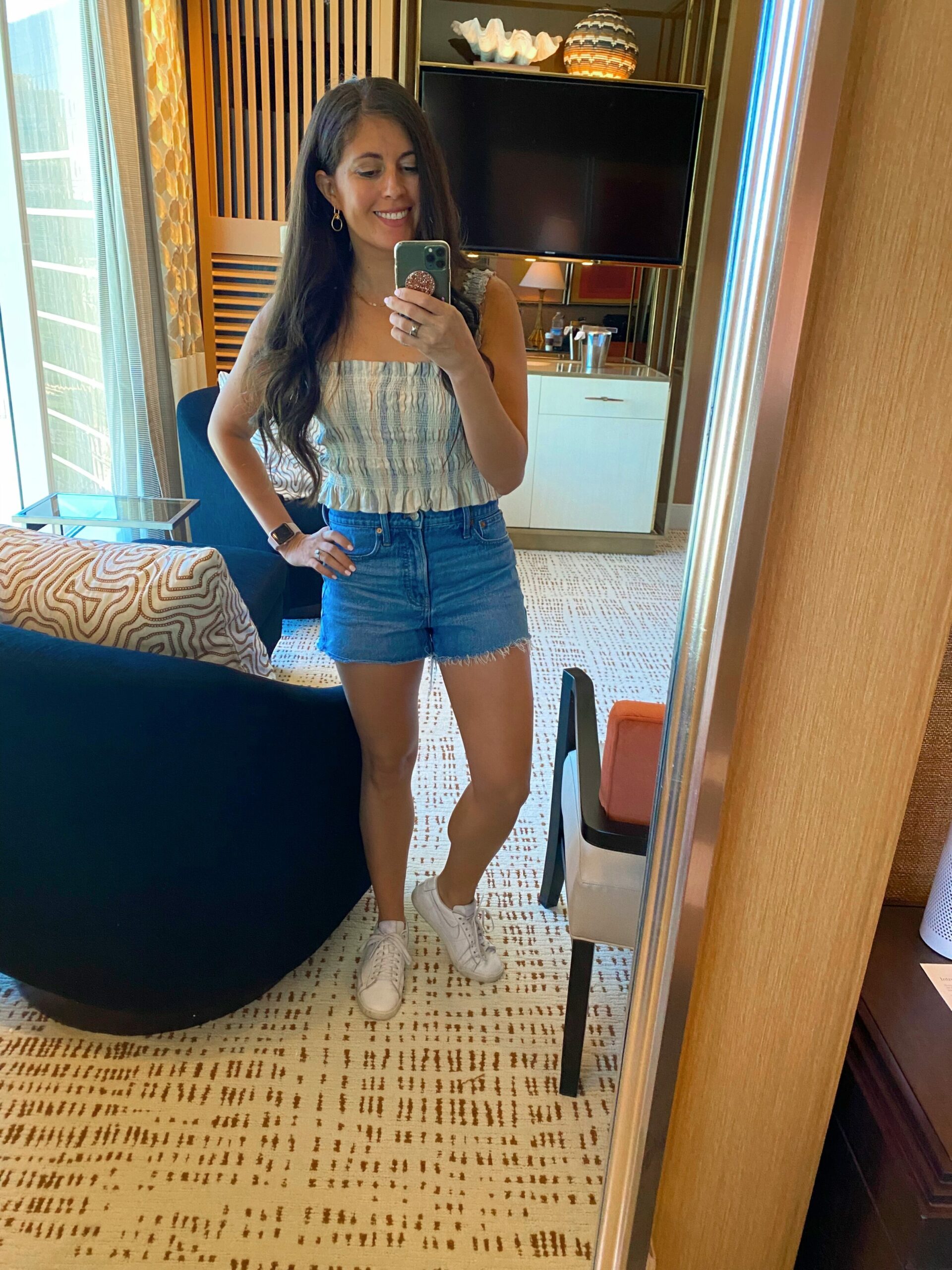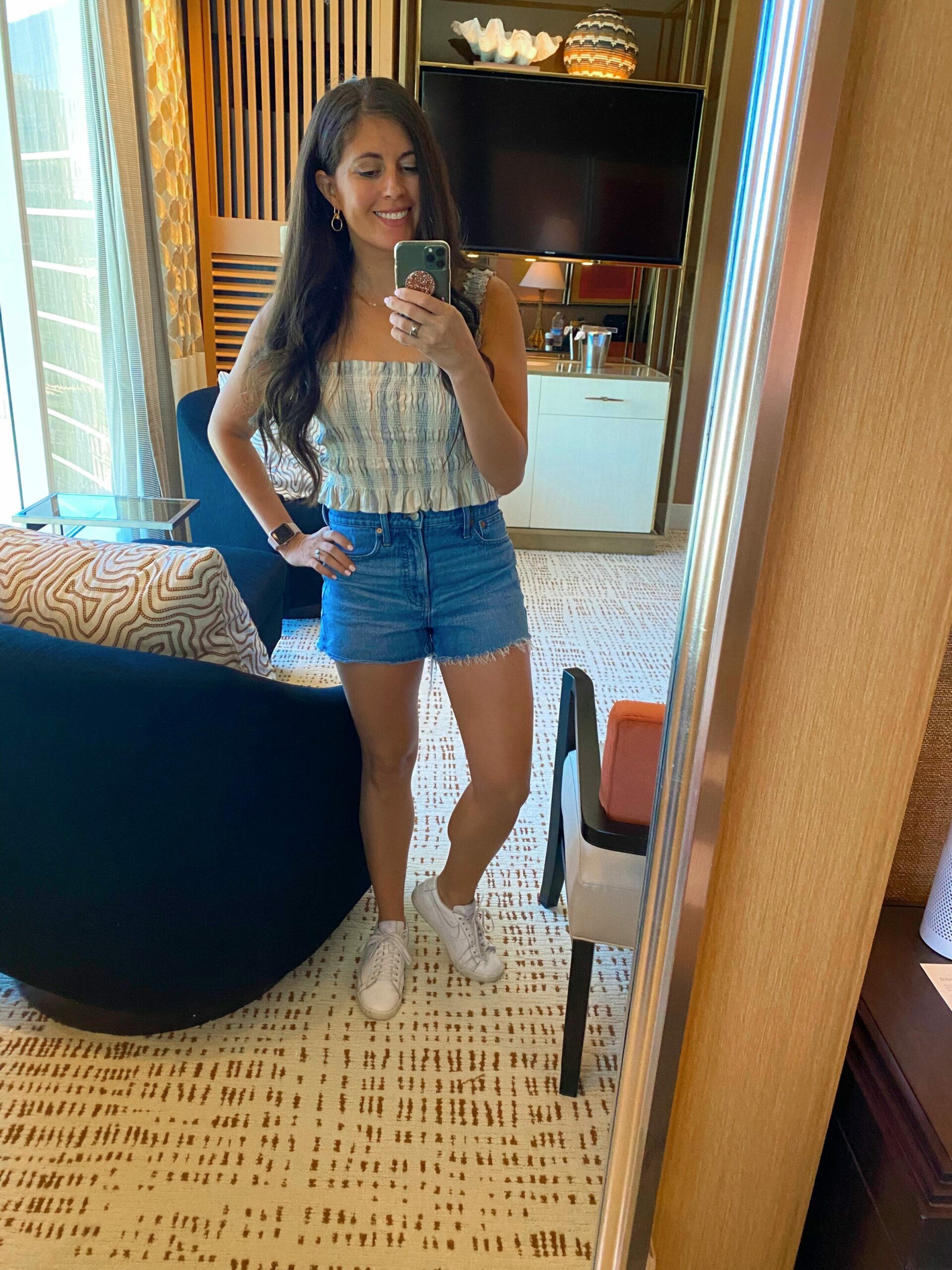 (Wearing the jean shorts below, and hoops and sticky bra all in this pic)
4) The most perfect jean shorts
I'm pretty picky about jean shorts, and because I'm not very tall, sometimes they'll fit weird. I don't want them to be too stretchy – otherwise they lose their shape by the end of the day and look baggy – and I have to watch the rise because if it's too high, it goes up to my boobs lol. The AGOLDE shorts are a little too baggy on me (I think I'm right in between sizes), and these have a lower price point and awesome quality. They're also on sale right now!
5) A giant Croc-ish beach bag
I've seen so many people post about these bags, and despite the fact that they're not very fashionable, we're all about function in this situation. I've ruined so many cute Apolis totes with wet mermaid Barbies and soggy towels. This one can get wet and then dry without becoming mildew-y. You can hose it off, and if you get sand in it, it's easy to get out. They're kind of hard to find but in the end, I ordered from this shop, which is totally legit.
6) LMNT electrolytes
These save me everyday, but especially during the summer. It's so hot here, and if you add in a workout, it's an easy way to sweat out minerals and deplete electrolytes. The LMNT flavors are amazing, and I especially love the watermelon salt and the chocolate salt. I asked them for a discount code and was denied, so unfortunately I don't have a code to share with you, but find the cost to be worth it.
7) This cute belt bag!
They're currently sold out but will restock sporadically. This is perfect for quick errands and walks outside, as it holds a small wallet, my phone, and keys. I also heard that you can throw it in the washer if it gets dirty, but haven't had to deal with that yet. Highly recommend it!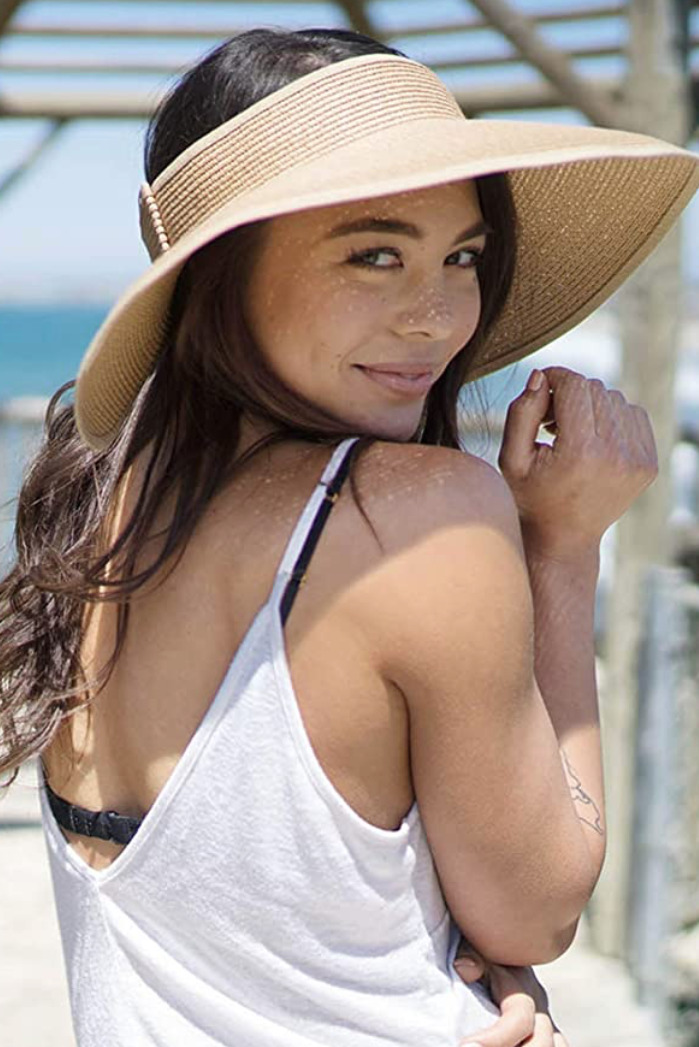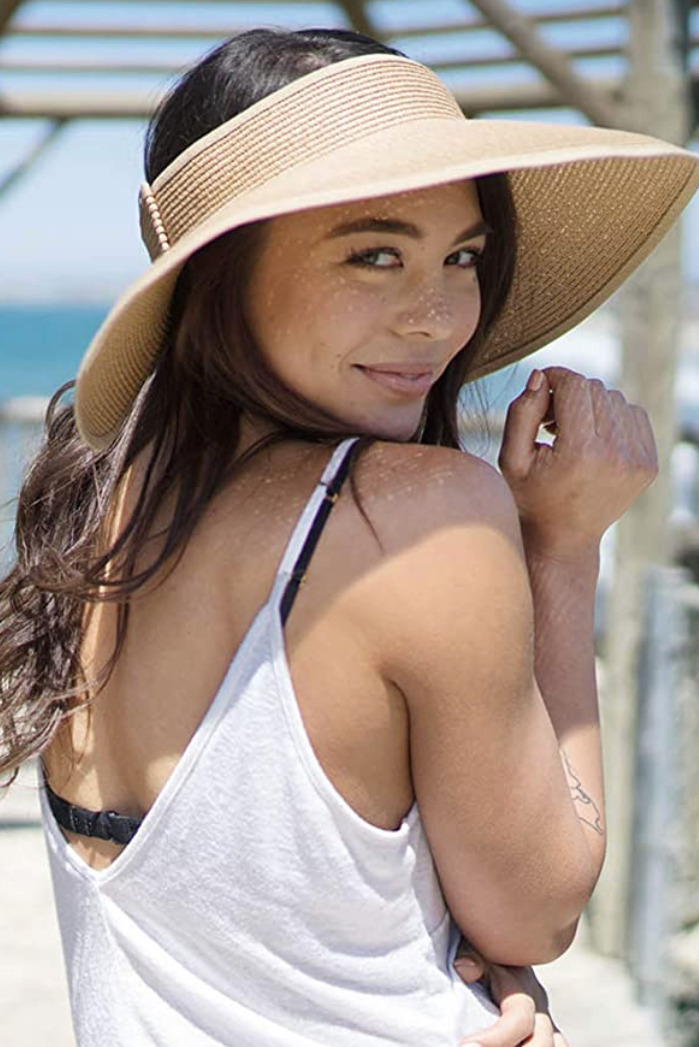 8) A hat that's made for high buns
This is perfect for when we're at the pool and I don't want to smash my hair with a baseball hat. I can still protect my face and rock my high, messy bun. This hat is a bit ridiculous, and I absolutely love it. You can also roll it up into your suitcase or pool bag.
9) Summersalt swimsuits
I've tried a LOT of swimsuits lately (with no luck… I'm sorry but I just don't want my buttcheeks out when I'm at the pool with the kids), and Summersalt has been a consistent win. I have the ruched one-shoulder, the triangle bikini, ruffle oasis one-piece, and the ruffle bikini top and mid-rise bottoms. The suits are high quality with a super flattering fit. They're still currently 20% off sitewide, too!!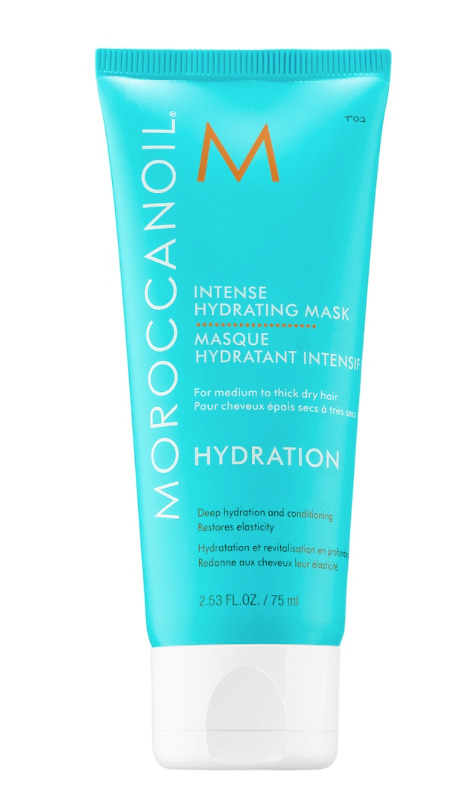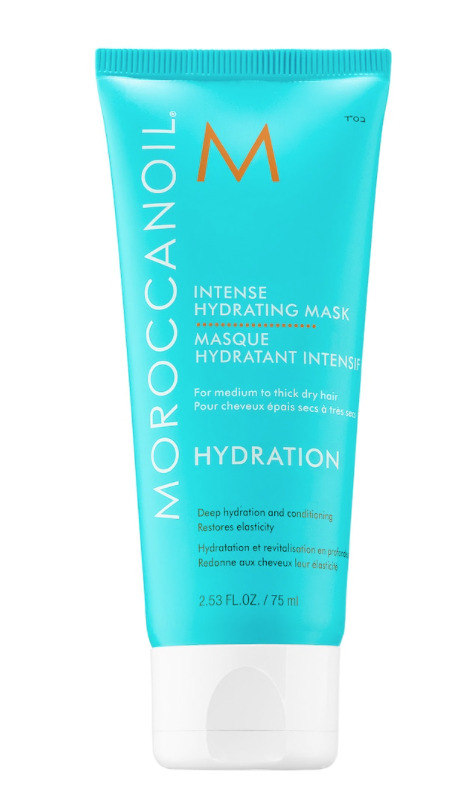 10) Moroccan oil hair mask
If your hair also gets dry during the summer, this mask is a game changer. Even better: get the single packs (I usually get two masks out of each one) and stash them in your pool bag and travel bag.
Reader friend faves
When I put the call out for things you've bought this summer and love, here are some of the things that you shared on Instagram and here on the blog! Thank you so much for those of you who chimed in; you introduced me to so many amazing new things!!
A rechargeable USB lighter
I got all my friends one of these for Christmas and people are obsessed! Sleek, compact and never runs out of juice. 
Dazzledry nail polish
I'm a busy mom of 2 with my own business, I have zero time to commit to getting my nails done. Actually; I never really was one to get my nails done professionally anyways…:? But since having my kids I have needed a little pick me up here and there that can be done without making an appointment. Dazzledry is awesome! It's a nice looking manicure that lasts about a week. People have actually thought it was professionally done. It's been my top things I say helped me adjust to mom life and not feel so "I got hit by a bus"
Madewell jeans
This is a little silly (especially given the heat) but I recently bought a pair of Madewell jeans that fit like an exquisite, beautiful glove. They were on sale at the time, but I didn't realize I couldn't stack my teacher discount on top of the sale price. As soon as I got home from the mall with them, I immediately felt weird about spending 3 figures on a pair of damn jeans and vowed to return them, but when I went back to the mall a few days later, the Madewell store was closed indefinitely for renovations. I've worn these god-forsaken jeans 3 times since then despite the surface-of-the-sun level temperatures in Nashville this month, and every time I wear them I think 'dammit these are good jeans.' So yea, any Madewell denim, depending on your style preference and body type for your desired fit – highly recommend. The quality is top notch.
Beautycounter Countersun Daily Sheer Defense for Face (the best daily sunscreen!)
Trtinoin cream from the dematologist
The Talkspace App
Diva laundry detergent
The rocking folding chairs at Costco! Perfect for watching my son's football practice
Pregnancy must: Reflux Gourmet natural supplement stops reflux and tastes like caramel
The Air Fryer!
Kitchen Air Sno Cone attachment (I didn't even know this was a thing!!!)
Stanley mug keeps water so cold and encourages me to drink more water
Salux Japanese body scrubbers
Full star brand chopper on Amazon. Makes chopped salads so simple!
Latisse
Frownies (I'm still obsessed with Frownies!)
Handheld frother
Tovala oven and meals
Might patch pimple patches
JBL GO3 waterproof portable speaker
Rio Deo aluminum free deodorant
Indie Lee brightening cleanser
Miller cloud sandals
Saie beauty products
Clip-on silicone pot strainer! It fits every pot size and so much easier than a regular strainer
So, tell me, friends: what are you LOVING this summer? What's something you've purchased recently and find yourself using all the time?
xoxo
Gina