Sharing tips on how to create a home gym on a budget and what equipment you really need.
Hi friends! Hope you're enjoying the day so far and that all of my dad friends had a happy Father's Day!
For this post, I wanted to chat about how to set up a home gym and what equipment you need, especially since many of us are still working out at home, or you might be considering creating a home gym on a budget.
Home gyms are getting even more popular since the pandemic started and there are SO MANY benefits to having your own gym at home. One of my favorite parts is that there's zero commute time, and if the kids are home, I can just get in a workout while they play or watch a show.
Creating a home gym can be a bit challenging if you have a limited budget (some gym technology and gear is pricey!) but there are ways you can create a home gym that works for your needs without breaking the bank. You can also customize it based on what you like to do and what products you think you really need.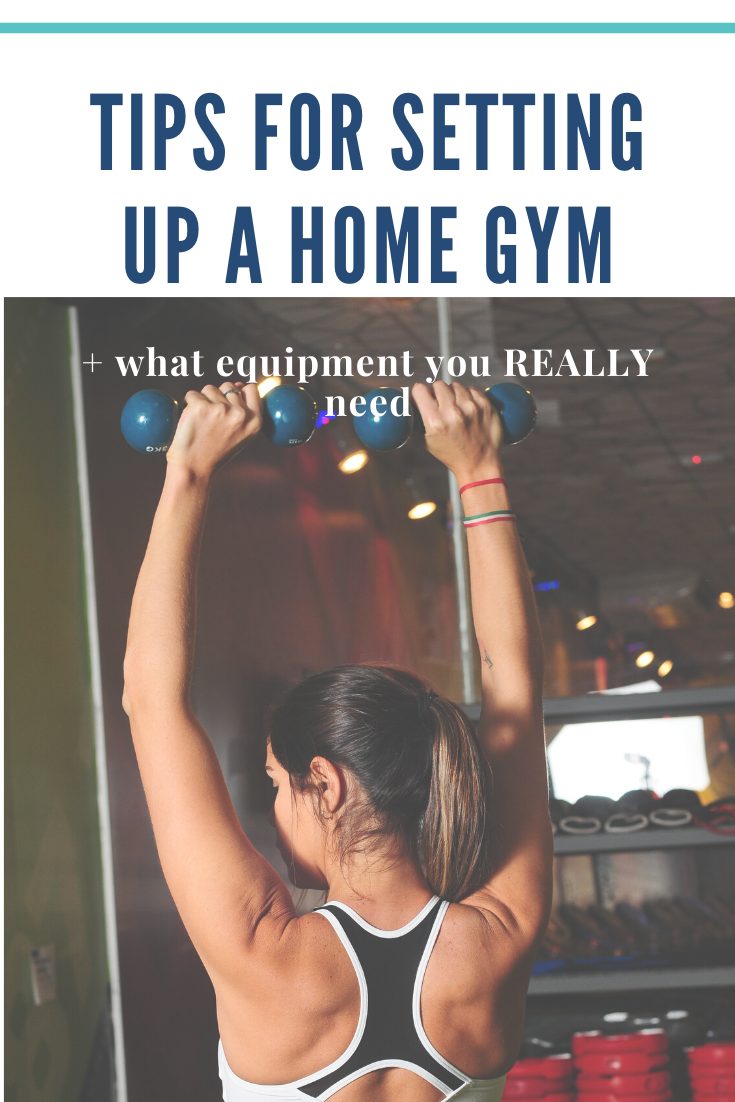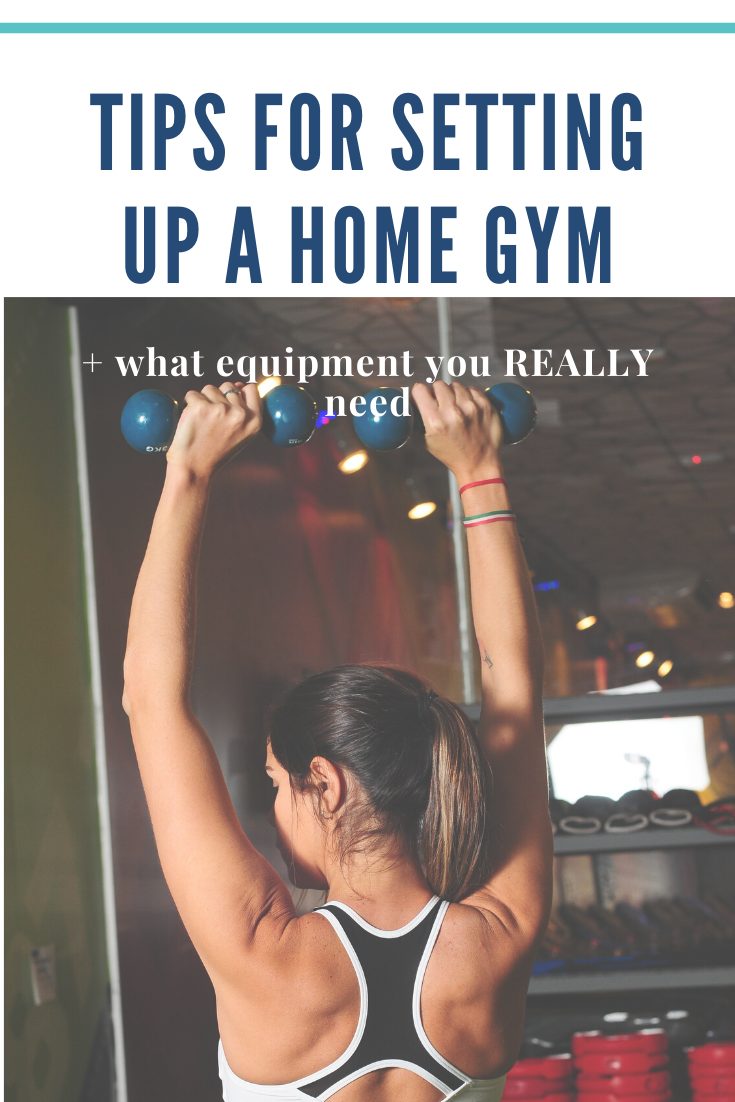 Before I get started, I just want to emphasize the fact that you don't need fancy or expensive equipment to get in a great workout. All you need to get an awesome workout is a plan, sneakers that fit you, and motivation. Anything else is just a bonus.
How To Create A Home Gym On A Budget:

Take advantage of what you already have and create a wish list for future items
Create a list or spreadsheet with the items you currently have and prioritize the ones you have your eye on.
Create a budget and estimate expenses
Determine a total spending budget and after doing some searching online, you can estimate how much your total gym set-up will cost.
Invest in multi-tasking tools at first
An example of this is if you're looking for strength training equipment, find something that you can use for multiple things (like dumbbells) and is versatile, before expanding into different products in the same theme (like barbells, kettlebells, etc.)
Create a dedicated workout space
This can be a full room in your house, a garage, an office corner, whatever you have the room to use. If you don't have a dedicated space, you could even store your workout items in a closet in a large bin. If space is an issue, focus on the items that don't take up a ton of room (like resistance bands, jump rope, small Pilates ball, etc.)
Buy secondhand equipment
I usually get lucky on Facebook marketplace, or when you hear about gyms closing or relocating, they're often looking to sell their equipment (if they didn't lease it).
Choose equipment you will actually use!
This one seems obvious but don't purchase anything you won't be excited to use in your routine. 🙂 A spin bike makes a lovely clothing rack but would be a waste of money.
Here are some of my top home gym essentials!
Home Gym Essentials
– Weights and resistance training
Dumbbells: The classic never dies. I think if you add anything to a home gym, a couple of sets of dumbbells are really all you need and provide the best value and versatility. I'd go with a light pair (3-8 lbs) and a heavier set (12-25 lbs). Adjustable dumbbells are another great option if you don't want to take up a ton of space.
Kettlebells: Kettlebells are a great way to switch up your strength training. I love using them for swings and unilateral strength work like single-leg deadlifts, shoulder presses, farmer carries, and rows. A kettlebell workout is here.
Barbells: If you're used to strength training with dumbbells, a barbell can be a fun way to do something different.
Bowflex or cable machine: A Bowflex is a little less cumbersome than a cable machine and does a lot of the same things. I have this one and love it.
TRX: TRX is another one of my must-have items. You can install them anywhere, they're extremely lightweight, and you can do so many exercises with them. My favorite TRX exercises are here.
Resistance bands: These are perfect if you're a beginner and don't want to purchase dumbbells yet, or if you have limited space. These are also wonderful for travel.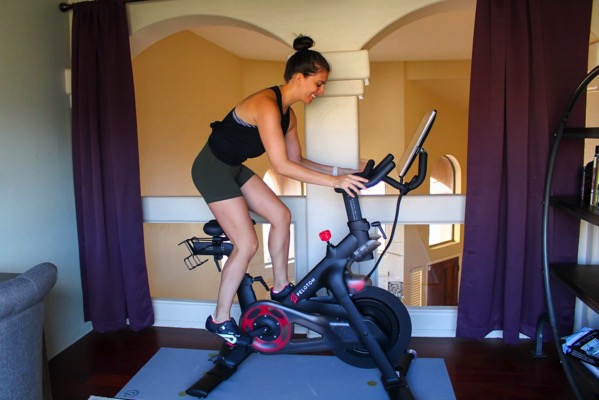 – Cardio options!
For cardio options, check out Facebook Marketplace or Craigslist. People are always getting rid of fitness equipment and you might find something awesome!
Treadmill: My #1 favorite brand is Woodway, but they're hard to find, and Peloton offers a treadmill. <— I haven't tried it but know it has to be good.
Spin bike: My Peloton is still one of my all-time favorite purchases. I use it at least once a week and LOVE the classes. The Pilot is hooked on it now, too! I recommend a spin bike because it's low impact, you can get in an excellent cardio workout, and they don't take up at insane amount of space. Check out my review of the Peloton bike here, and how to PR on the Peloton here. If you decide to go for it, email me and I'm happy to pass along my referral code.
Rowing machine: These are incredible to have at home if you want a different cardio option or you like interval training. I like the rowing increases strength and definition in arms and back, when these areas can be a bit neglected on the spin bike, treadmill, or starclimber. The IndoRow is my fave brand.
Battle rope: Battle ropes are so much fun (lots of exercises here!) and a fantastic way to get your heart rate up quickly.
Jump rope: This is the most economical cardio option. Grab a jump rope and do some jump intervals.
– Stretching, yoga, and recovery
Foam roller or rumble roller. My tips for foam rolling are here!
Mat. Any mat will do, and Target and Amazon offer inexpensive mat options. My all-time favorite mat is Manduka.
Theragun. This handy tool is inssannnnneee at relieving sore muscles. If you're looking for an ultimate recovery tool, this is a good one.
– Fun extras: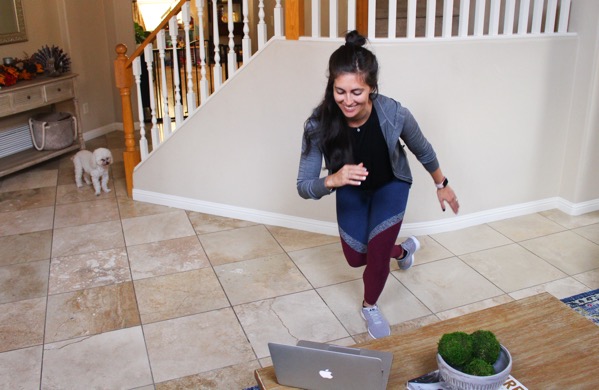 (I miss my lil Bella Boo)
Apps and On Demand workouts:
Peloton App:
I think we all know I love Peloton. The classes are fantastic and I love the music. I will say I definitely prefer the cardio and yoga classes over the strength and bootcamp classes, but I think they do an incredible job. Check out my full review of the app here.
Les Mills On Demand:
Les Mills On Demand. Les Mills On Demand is one of my very favorite resources for home and travel workouts. The instructors are the best of the best and the workouts and science-driven and research-based for maximum effectiveness. They put a lot of care and science into the structure and design of their workouts, and you can tell. My top classes are BODYPUMP, BODY ATTACK, and GRIT. Get 21 days of Les Mills On Demand for free with this link.
Sweat app:
Sweat App. If you're looking to follow a precise plan, the Sweat App is the place to be. They have so many different programs and I really like these workouts when I don't want to think about anything and just go.
Barre apps:
Physique 57, Pure Barre and barre3. These are perfect if you're looking for a barre workout! I used to prefer the P57 workouts but I feel like the On Demand ones have been a little stale lately.
More equipment:
A bench.
A pull-up bar. It's fun to have family challenges but also kind of crazy that Liv and P can crank out pull-ups like it's NBD.
Plyo boxes. Love these for step-ups, box jumps, box hops, and burpees with a box jump.
Sound system or even a portable Bluetooth speaker.
Do you work out at home or at the gym? If you could add anything to your workout space, what would it be? I really want a Peloton tread… or a Technogym Skill Mill.